Contract Staffing
The dynamic nature of the IT industry requires great emphasis on finding the right talent at the right time. Organizations, small and large are often faced with the challenge of meeting deliverables at unrealistic timeframes. It puts enormous pressure on the existing staff, often resulting in employee lapse in deliverables and discontent. It is increasingly a part of the IT Manager's responsibilities to manage such situations through strategic staff augmentation. Managers often hire temporary staff to help meet the surge in work.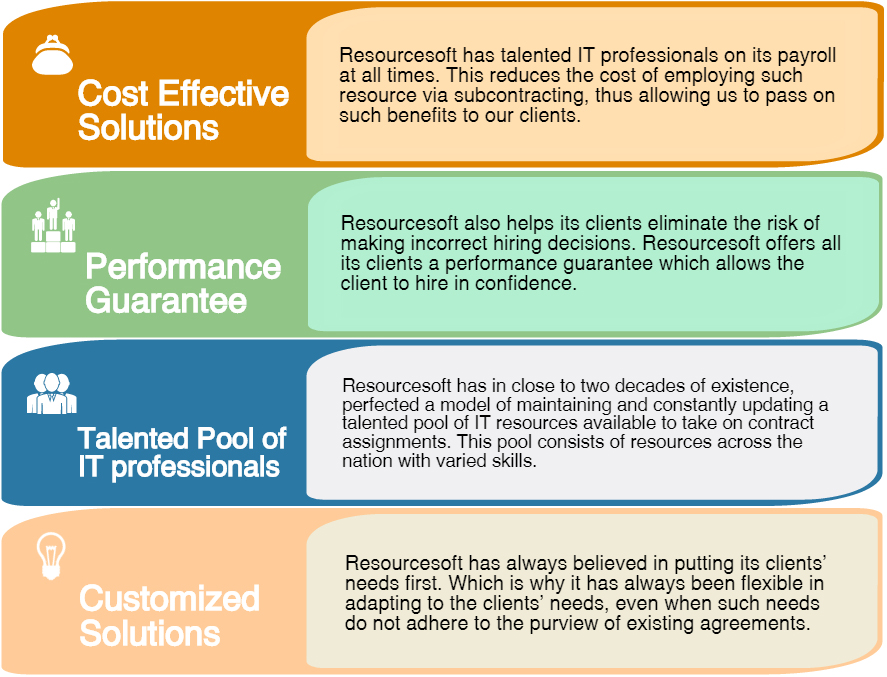 Since 1999, Resourcesoft has been devoted to assisting its clients in obtaining the most suitable resources at the right time and for the right duration. We differentiate ourselves from our competitors by constantly maintaining and updating a pool of highly talented IT resources. Unlike our competitors who tend to wait on a client requirement, at Resourcesoft, experienced recruiters are constantly talking to available IT professionals to maintain an accessible pool of resources at short notice. It is a proven model to help our clients reduce time and cost of hiring temporary workforce. Our contract staffing services allow clients to implement crucial projects, fill temporary recruiting needs, and eliminate workforce redundancy. With the intention of preserving well-matched talent while cutting hiring related costs, Resourcesoft's strategic contract basis staffing serves as a valuable choice.
Advantages:
Cost Effective Solutions
Resourcesoft can provide tailor made staffing solutions to suit its clients' time and budget requirements.
Client Delight
Resourcesoft helps clients eliminate the risk of making incorrect hiring decisions with its performance guarantee, allowing clients to terminate contracts at no cost. Contact an Account Executive for more details.
Talented Pool of IT professionals
Resourcesoft maintains a talented pool of IT professionals on its payroll at all times.
Customized Solutions
Resourcesoft has always put its client's needs first. And that's one reason why we will been flexible in adapting to the client's needs, even if such needs do not adhere to the purview of existing agreements.